So I owe you all a little-bitty update on my life...in a few weeks the hubs, doggie & I are heading out in the truck for a tour of the west half of the U.S. We won't be doing Alaska or Hawaii however...
We went to Hawaii on our honeymoon and we will do Alaska another time (He says the camping is great, but everytime he talks about his visit there its all about the many bears he saw...hmm...I'm not convinced). And I'm not too sure if we will get into Texas, Oklahoma, Kansas, Nebraska or the Dakota's either. Depends on how much time we spend getting to that area, we have a few set weeks where we will be visiting family, so those are really the only "for sure's". Cody (my hubby) has this interesting request: we don't travel outside the country till we've seen all of our own...So the all-inclusive mexican getaway of my dreams is going to have to wait a while. Here's the general plan for our 10 WEEK TRIP!!!
For the most part we will be visiting National Parks and other various state landmarks. So I have no idea how often I will have internet service, hopefully 1/week, most likely at good old Starbucks. Anywho, as we are taking a slight detour in life and many I'm sure on the trip, this blog is taking a detour too. Just wanted to give you all a little FYI!
All this roadtrip planning has definately got me going on lots of ideas however. For one, my
latest scrapbook
is going to be my roadtrip journal (more updates on completing that project to come). And I've been super inspired by
another blog
's fascination with maps and all the decorating possibilities they have. Like this picture below: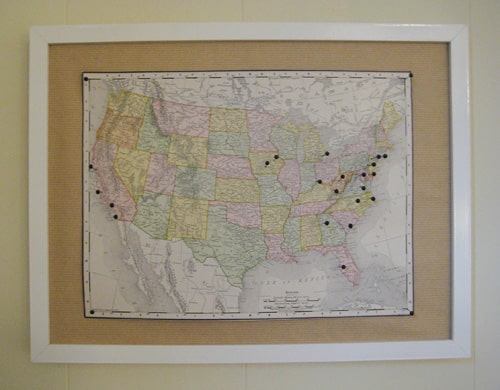 And then I found all these other fun maps on Etsy! I want them both...badly....
Stay tuned for updates on our crazy adventure!!!